An Ode to Preserving
I was reading one of my favorite homesteading blogs today and was inspired by their post about our relationship with food. The post had an incredible image of a stocked pantry shelf, which just struck me as one of the most beautiful, comforting things in the world.
So I've decided to dedicate a blog entry to canning, preserving, root cellars, pantries and "putting things up" in general.
I hope you enjoy these images and find them as beautiful as I do. Click on any image to be taken to the site where it was found. For those of you interested in canning and preserving your own food, the two books on the left are absolute MUST HAVES for any beginner. Just think of how content, safe and confident you'll feel when looking at row upon row of food for your family. Who knows, it might come in handy in case of a zombie apocalypse, war on American soil, fall of the government, chaos, anarchy, return of the ice age…
Or just a long cold winter.
"This is close to a two year supply.  When I'm finally done preserving for the year, I will make a pantry page, with tallies, homegrown or purchased, etc."
"Food in the root cellar in the pantry in the basement."
"In its floor is a 2-foot by 6-foot cement pit which is our root cellar."
Pile of O'Melay's: A Home Made Root Cellar in Progress.
An old root cellar found on a hike, along with classic root crops.
Vaulted root cellar that is about 6 1/2 feet high inside, W. B. Township, Potter County, PA.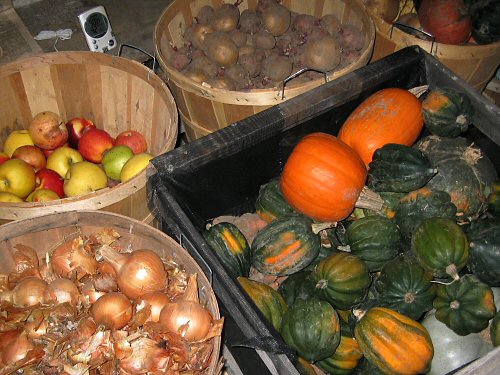 "Root cellar crops like squash, potatoes, apples and onions."
This is a great idea that recycles something that otherwise would have ended up in a landfill. Nevertheless, we found it on a site about "redneck" inventions.
Category: Sustainable Living